Hurricane Isaac has stalled overnight bringing suffering and destruction to the peoples of New Orleans, Plaquemine's, Grand Isle, Bayou's, LaPlace and many other areas in the region. There have been reports of tornadoes in Alabama and Mississippi which is also suffering greatly on the shorelines. This storm is not predicated to move due to the dry air above it until tomorrow.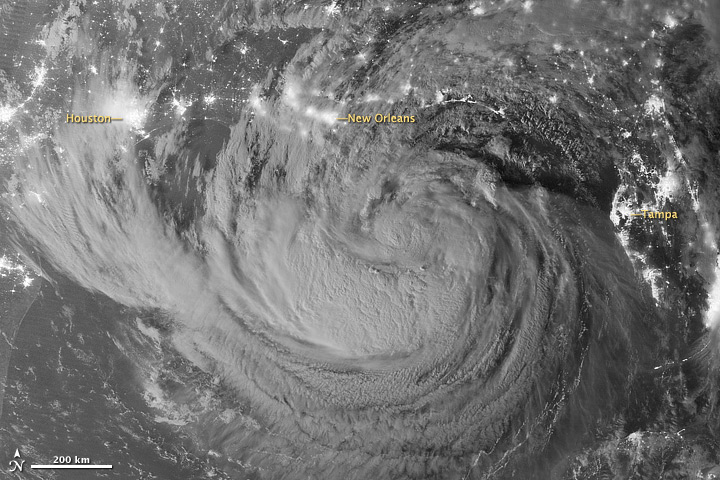 Photo: NASA
Follow this link for flash image of dry air holding Isaac in place:
http://www.ssd.noaa.gov/goes/east/eaus/flash-wv.html
Follow this link at
talkweather.com
for updates from people following the storm. Excellent links.
Follow this link at
NOLAReady@twitter
for twitter updates of citizen reports of damage.
Follow this link for street closures, power outages:
http://new.nola.gov/ready
Follow this link for updates from the LEDE of the NY Times and video as well as webcams:
THELEDEwithRobertMackey
Follow this link with the Weather Channel's Twitter updates:
Hurricane Central @twc_hurricane
To listen to live local New Orleans talk radio:
http://www.wwl.com/
To listen and watch live coverage:
Fox8NewsLive
Follow this link for the radar images:
National Weather Service Enhanced Radar Image Loop
Follow this link from Harry Shearer for tweets on the storm and info about levee's "all but complete":
twitter.com/TheHarryShearer
HRRR loop of ISSAC until 2 a.m.:
HRRRComposite Reflectivity
It has been reports that Plaquemines Parish flooded. with 12 feet if water in homes via The Weather Channel's Hurricane Central (follow the above twitter link).
Entergy reporting over 400,000 people without power.
Isaac will be hovering over Louisiana all day. Keep everyone who are in the path of this storm in your thoughts and prayers throughout your day.
PRAYERS for the suffering
.
your planetary sister,
soulJAH